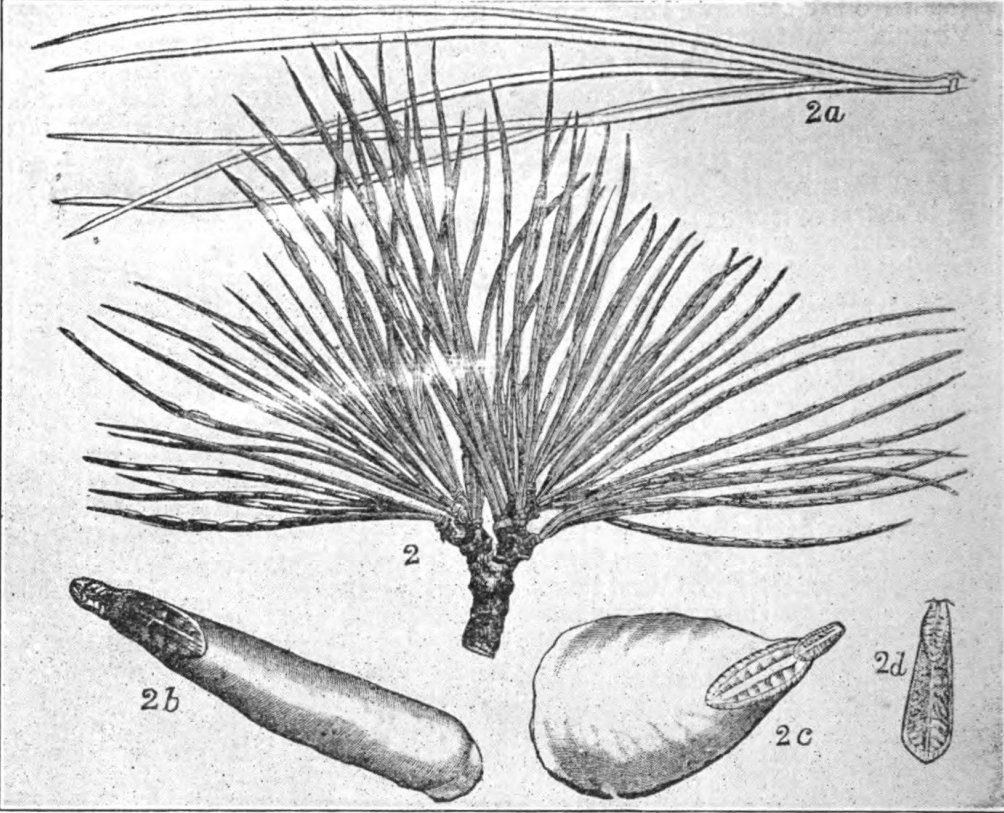 Pine-leaf scale (Chionaspis pinifoliae) on leaves of white pine (Pinus Strobus), natural size, leaves stunted; 2a, leaves of white pine not stunted by scale-insects; 2b, scale of female usual form, enlarged; 2c, scale of female, wide form, enlarged; 2d, scale of male enlarged. (After Comstock.)
the ovary. Some honey has been stored in favorable seasons especially in Texas, but usually hop-tree is not common enough for a surplus.
LADIES' EARDROPS, BUCKWHEAT VINE (Brunnichia cirrhosa). A climbing shrubby vine with tendrils at ends of branches, flowers without petals but with greenish sepals and winged flower stalks. Buckwheat vine grows in damp places from South Carolina to Arkansas and Texas and blooms from June to August. The honey is light amber with a medium body and a good flavor. S. J. Head reports an average of 60 pounds per colony in Arkansas. The vine secretes best in hot, dry weather.
LECHUGUILLA (Agave lechuguilla). A desert plant with a basal cluster of sharp-pointed leaves and numerous tubular, greenish flowers in a cluster 12 to 15 feet tall. Lechuguilla grows on rocky hills in southwest Texas and adjacent Mexico where it produces a dark, strong honey with a very unpleasant odor. Beekeepers try to keep their desert apiaries away from this plant.
LOCUST, HONEY (Gleditsia triacanthos). The only tree with branched thorns, compound leaves and slender racemes of small greenish flowers which have the odor of honey and secrete nectar freely. Widely distributed in eastern United States where it blooms in April or May. Although bees often work the flowers freely, a surplus is rarely obtained.
LOTI-BUSH, TEXAS BUCKTHORN (Zizyphus obtusifolia). Are thorny shrubs with greenish flowers found from southeastern Texas to Mexico and Arizona. Bees visit the flowers for nectar but no surplus has been reported.