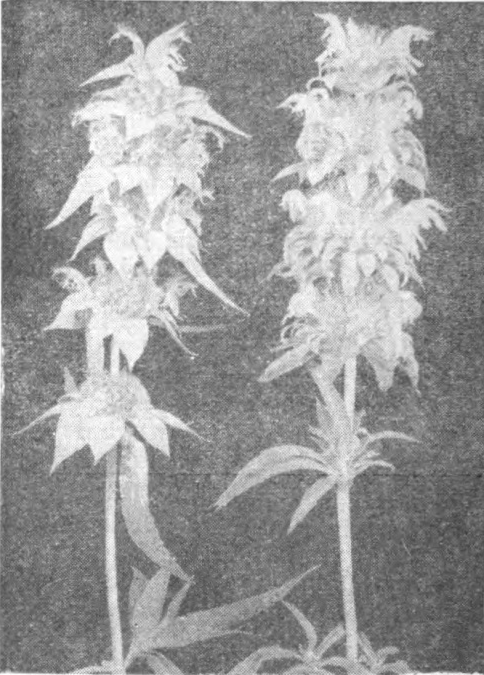 Sandy-land Horsemint and Black-land Horsemint.
common in Mississippi and Arkansas. It grows in low ground and climbs high into trees. Bees visit it for nectar which is mixed with that of other vines common in the region.
GOLDEN-RAIN TREE, GATE TREE, VARNISH TREE (Koelreuteria paniculata). A tree with pinnately compound leaves, and great clusters of yellow flowers in June, and inflated bladdery fruits later. Bees visit the flowers in great numbers for nectar. It should be planted more often.
GOLDENROD (Solidago spp.). This well-known fall composite with great compound clusters of yellow flowers occurs throughout North America. Goldenrods cover old fields and pastures and even open woods. In many states they are the source of a large fall surplus of yellow honey variously described as having a fair to good flavor. In the northeast many people prefer goldenrod to clover honey and here surpluses of 100 pounds or more are often obtained. The late blooming species produce the most nectar. The honey is often mixed with aster, iron-weed, fall boneset, etc. In the mid-western states goldenrod yields very little nectar.
HONEYSUCKLE, BUSH (Diervilla Lonicera). A small shrub up to 4 feet with numerous yellow flowers in groups of three. It grows from Newfoundland and Manitoba south to North Carolina and Wisconsin. It is very attractive to bees in early spring and stimulates brood rearing. Most honeysuckle vines have the nectar too deeply concealed in the bottom of long tubes for honeybees to benefit. The cultivated Chinese honeysuckle blooms on the first warm day in February or March and is an important stimulant to brood rearing in the central states.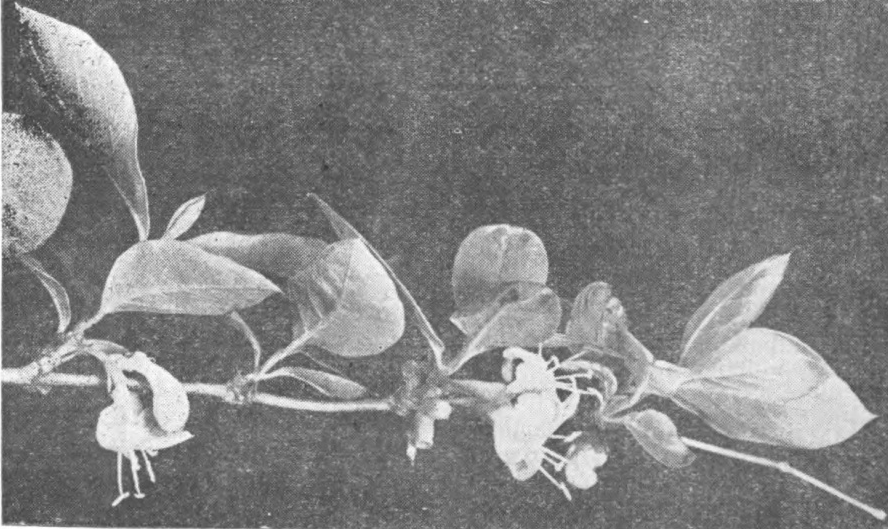 Chinese Honeysuckle.